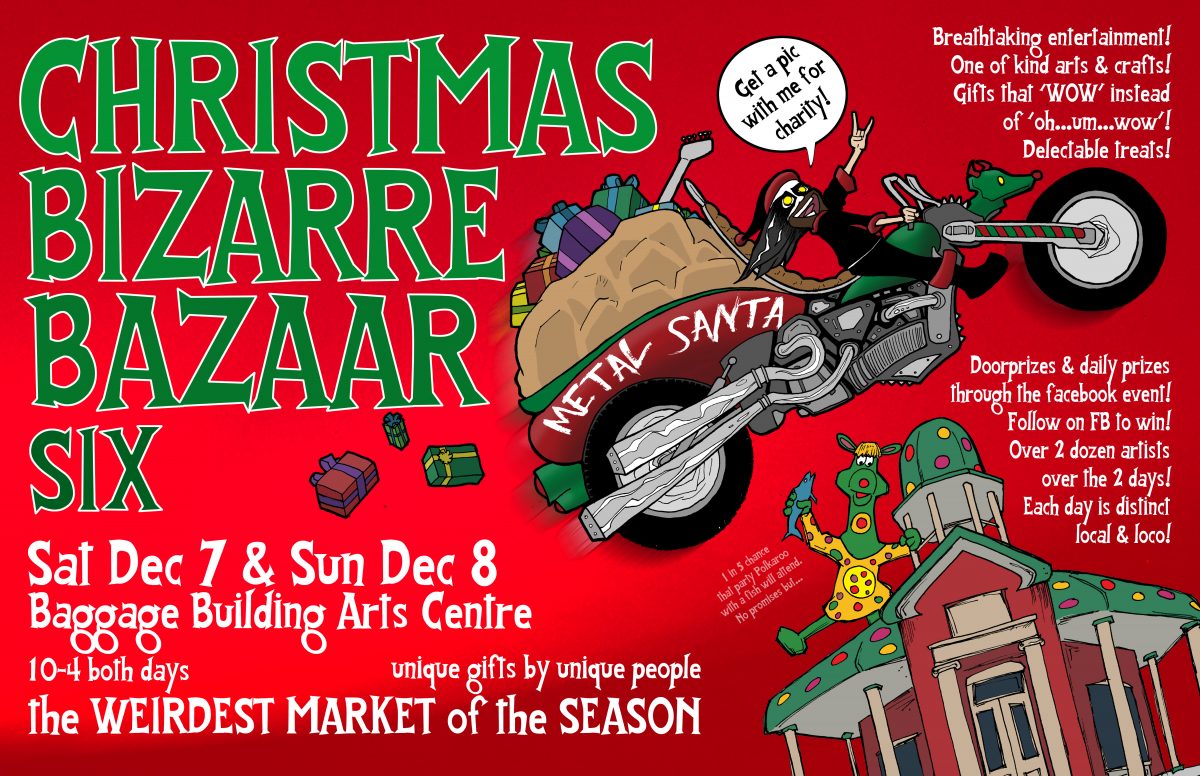 December 7-8, 2019 10:00 am - 4:00 pm
Baggage Building Arts Centre, 2200 Sleeping Giant Pkwy, Thunder Bay, ON
The Bizarre Bazaar is BACK for year 6 and more bizarre than ever!
With over two dozen local artists over two days, hand picked for their singular (and strange) spin on art, life, and fantastic gifts for you to wow those people in your life that deserve really cool gifts…..the BIZARRE BAZAAR is a MUST GO this season. Crossing all forms of art, crafts, imagination and derangement, there will definitely be something here you won't find elsewhere! From books to clothing to food to pottery to art prints to jewellery to fabric art to one of kind original art to ….. so much more! Little snippets from our weird, little, creative brains! At the Baggage Building Arts Centre at the Waterfront!! Dec 7 & 8, 10-4 both days.
And this year is the FANTABULOUS RETURN of METAL SANTA!!! Metal Santa will be available all weekend for photo opportunities for a charitable donation (more info coming soon).
A delicious buffet assortment of local creative treasures in one building, two days, 12 hours total (each day being unique)….. a full listing of the Bazaar menu will posted shortly on the FB event!.
A delightful door prize is up for grabs along with individual prizes from each vendor…. stay tuned to upcoming creator bio posts for ways to win!
We're the weird cousin of Christmas Craft Market Shows.
The cool one.
The one that rescued you from the kid's table.
Don't get stuck at the kids table.
Learn More